Global Vortex Map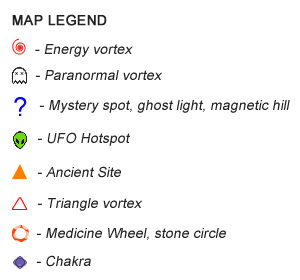 About the Global Vortex Map...
Most of the places marked on the map are from reports we have received from visitors to this website that claim they have had experiences there. We do our best to substantiate all claims, but it doesn't necessarily mean that the location is a vortex.
Icons: spirals are energy vortexes, ghosts are paranormal vortexes, aliens are UFO hotspots, question marks are mystery spots, spook lights and gravity hills.
Unless indicated, the GPS coordinates are for the general area, not the center of the vortex.
Zoom in and click on a spiral for more information. If you are on a mobile device, use two fingers to zoom in and two fingers held together to move the map.
If you have visited one of these sites, please share your experience there, positive, negative or neutral.
Many of the locations on the map are unreachable and are for reference only.
It is your responsibility to get permission, if needed, before visiting any location listed on this site. Don't travel alone. Take all safety precautions.
Recent Vortex Map Additions